ASEAN Ceramics successfully hosted a press conference on 28th July 2023
7th Edition to be held in International Centre for Exhibition in Hanoi, Vietnam from 28th to 30th November 2023

200+ exhibiting companies and brands, 3000+ trade visitors and hosted buyers over the three days event
HANOI, Vietnam, July 31, 2023 – (ACN Newswire via SEAPRWire.com) – Endorsed by the Ministry of Construction of Vietnam and overseas and domestic government trade and associations – Association of Italian Manufacturers of Machinery and Equipment for Ceramics (ACIMAC), China Council for the Promotion of International Trade (CCPIT) Building Materials Sub-Council, Thai Ceramic Society (TCS), Bangladesh Ceramic Manufacturers & Exporters Association (BCMEA), Vietnam Consumer Ceramic Association (VCCA), Vietnam Association for Building Materials (VABM), Vietnam Institute for Building Materials (VIBM).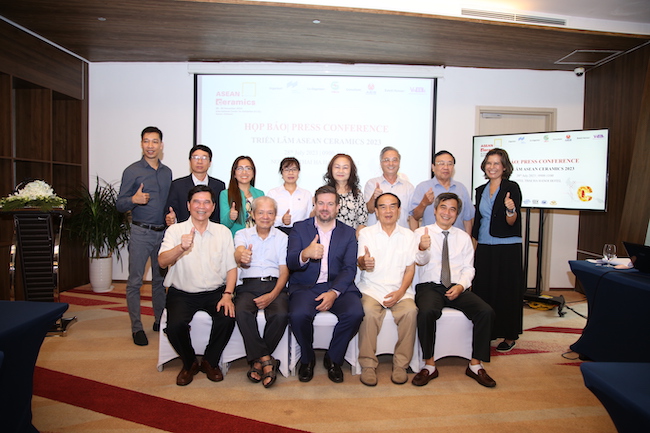 Organised by MMI Asia, the regional subsidiary of Messe München GmbH and Vietnam Building Ceramic Association (VIBCA), together in consultation with Asian Exhibition Services (AES) Ltd., ASEAN Ceramics 2023 is the leading international exhibition of machinery, technology, and materials for manufacturing white-ware, heavy clay, and advanced ceramics. Building upon the remarkable success and expertise of ceramitec, the event promises to bring together the most influential players in the ceramics industry within the ASEAN region.
This year's theme, "Building a Sustainable Future, Green Innovation and Production Efficiency through Digitalization, Automation, Alternative Fuels, Energy Recovery and Losses & Waste Reduction," will emphasize sustainability and technological advancements driving the ceramics industry forward. The exhibition and conference will bring together the world's leading suppliers and Southeast Asia's leading manufacturers to promote trade cooperation, technical exchanges, and continued technology investments to improve ceramic quality standards that meets the sophisticated international requirements.
Michael Wilton, CEO & Managing Director of MMI Asia expressed "The ceramic business in Southeast Asia holds great opportunities with the combination of ASEAN government's development and infrastructure programme and the increasing Vietnam's ceramic production for export to APAC, US and European markets. We are committed to provide an optimal platform to showcase machineries, technologies, materials, and methodologies in support of the further developments and advancements for the Ceramics Industry".
Mr Dinh Quang Huy, Chairman of VIBCA expressed "In recent ten years, the Asean ceramic industry has been developing rapidly, becoming one of the most vibrant regions in the world. In Vietnam, with the current production capacity of over 800 million square meters of ceramic tiles, 24 million pieces of sanitaryware products together with tableware sector, Vietnam has been annually ranked in the top 10 of the world's biggest ceramic producing countries, being the attractive destination for international machinery and raw materials suppliers. Asean Ceramics exhibition has gradually built up its position in the list of important events of the ceramic industry in Southeast Asia and the world with more and more increasing scale both in the list of exhibitors and sectors as well as the number of visitors. This shows the attraction of the Expo and at the same time we can see the effect that the event brings to the exhibitors and visitors.
ASEAN Ceramics 2023 will feature country pavilions from China, Italy, and Vietnam, providing an immersive experience encompassing a wide range of sectors within the ceramics industry. Renowned bronze sponsors such as Izawa Pigments, Heraeus, Granulation Systems and key exhibitors Thach Quang Trading, Rock Team, Vitis Joint Stock Company, Behn Meyer, SACMI and System Ceramics will showcase ceramic industry innovations and technology developments. Hiroyasu Izawa, President of Izawa Pigment Co. Ltd expressed his excitement "I am very excited to be back at ASEAN Ceramics after the great success of the Bangkok show last year and we are fortunate to be bringing our partner Heraeus to this event and we look forward to seeing you all in November".
Visitors can expect to witness various solutions, technologies, and state of the art machineries at this year's exhibition which include:
Breakthrough solution from Laboratorios Argenol (Spain) – the BactiBlock antimicrobial additives that effectively inhibit the growth of harmful bacteria, providing long-lasting protection in various applications by Behn Meyer

Latest decoration techniques and colours for ceramic tableware, tiles, and glass by Izawa Pigments

Latest precious metal materials for decorating ceramics and glass as well as for technical applications used in many areas such as the automotive, aeronautic, or electronic industries by Heraeus Precious Coatings

Ceramic digital ink, ceramic roller, CMC and Alumina ball and brick in the ceramic market by Rock Team Industry

Customised minerals such as kaolin, zircon opacifier for a variety of specific applications by Vitis Joint Stock Company
In addition to the exhibition, ASEAN Ceramics 2023 will feature a comprehensive program of accompanying activities creating opportunities for knowledge exchange, collaboration, and business growth – ASEAN Ceramics Conference, Buyer-Seller Meetings, Pre-event Factory Tours, Technical Ceramics Pavilion, Ceramics Manufacturing Showcase and Networking opportunities.
ASEAN Ceramics 2023 is set to be a milestone event in the ceramics industry, propelling innovation, collaboration, and growth. Don't miss this opportunity to shape the future of ceramics manufacturing in the ASEAN region. Stay updated on the latest news, exhibitor profiles, and conference schedules by visiting the official ASEAN Ceramics 2023 website at www.aseanceramics.com.
About ASEAN Ceramics
ASEAN Ceramics is the leading platform dedicated to advancing the ceramics industry through innovation, collaboration, and growth. The exhibition brings together manufacturers, suppliers, professionals, and industry experts from around the world to showcase the latest products, technologies, and ideas. For more information, visit www.aseanceramics.com.
About Messe Muenchen GmbH
Messe Muenchen GmbH is one of the world's leading trade fair organizers with more than 50 trade fairs for capital goods, consumer goods, and new technologies. Every year, Messe Muenchen organizes more than 200 events in Munich, Germany, and abroad, attracting over 30,000 exhibitors and 2 million visitors. The company's mission is to create innovative, sustainable, and profitable platforms for its customers to do business and connect with their target markets.
About MMI Asia Pte Ltd
MMI Asia is a full subsidiary of Messe München GMBH (MMG) established in 1992 and one of the world largest and leading exhibition organizers. MMI Asia was set up as the regional headquarter and a wholly-owned subsidiary of MMG to promote global trade expansion by facilitating participation of Asian exhibitors in Messe München fairs worldwide. MMI Asia also provides consultancy in professional trade fair and conference management to government bodies, international trade and promotion organizations, and trade associations.
About Vietnam Building Ceramic Association (VIBCA)
Vietnam Building Ceramic Association is a professional organization, non-governmental, voluntary, established under Decision No. 41/1999 / QD – BTCCBCP dated 04-10-1999 of the Minister, Head of the Organizing Committee Government personnel. Currently VIBCA includes around 100 members are enterprises of different economic sectors, operating mainly in the field of building ceramics, including the associate members are research institutions, investment consulting, manufacturing and mechanical engineering. VIBCA is a member of the Association of Asean Ceramics Industry CICA and intimate relationship with the Association Ceramics of countries in Asean and in the world.
Contact:
MMI Asia Pte. Ltd.
Daniel Shi
Exhibition Director
Daniel@mmiasia.com.sg
Vietnam Building Ceramic Association
Ms Vu Thi Kim Dung – 84 915114000
Chief of Foreign Affairs
vibcaoffice@gmail.com
Copyright 2023 ACN Newswire. All rights reserved. (via SEAPRWire)