HONG KONG, Apr 3, 2023 – (ACN Newswire via SEAPRWire.com) – Champion Real Estate Investment Trust ("Champion REIT" or "Trust") (Stock Code: 2778), owner of Three Garden Road and Langham Place, announced that Langham Place Mall ("the Mall") has cooperated with two local non-profit organizations, namely Food Angel and HK Saving Cat and Dog Association ("HKSCDA"), in organizing the "1+1 LP CLUB Bonus Points Donation" charity event for creating shared values and contribute to society.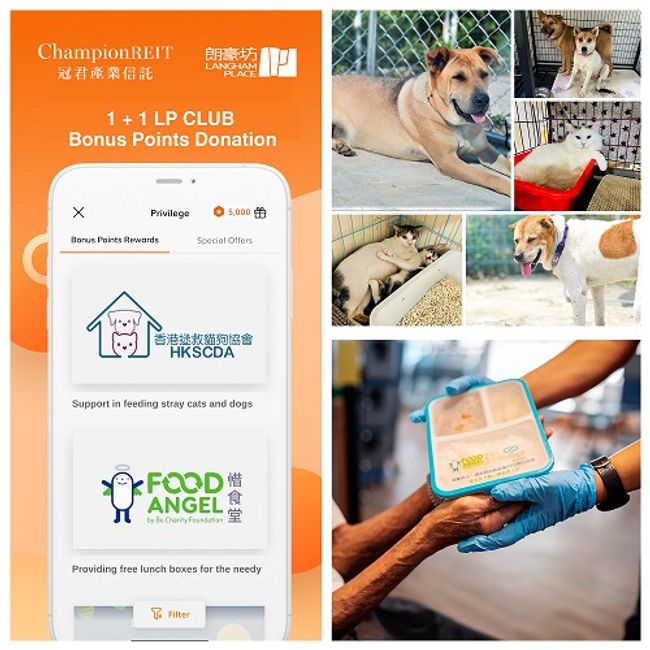 1+1 LP CLUB Bonus Points Donation
Every donation of 5,000 bonus points by LP CLUB members of Langham Place Mall will be converted into a HK$20 donation to support Food Angel or HKSCDA in providing meal boxes to people in need or in helping stray cats and dogs. To double the effect, Champion REIT will donate the same amount to charitable organisations to achieve the "1+1" impact.
The event has received enthusiastic response since its launch in March this year. In view of this, the Trust has increased the quota of the "1+1 LP CLUB Bonus Points Donation" programme. Total donation received for the overall event is already enough for the organisations to prepare about 5,000 meal boxes for the needy and two-month portion of food for 200 stray cats and dogs.
The Mall has also participated in "Food Smart Buddy", the smart food donation programme of Food Angel, and has set up a smart food donation machine at Level B1 of the Mall for visitors to donate surplus food. The food collected will support Food Angel in preparing meals for the underprivileged in society. As one of the pet-friendly malls in Hong Kong, the Mall has co-hosted a Dog Adoption Day with the Hong Kong Rescue Cats and Dogs Association to encourage the public to "adopt instead of shop" and to extend their unconditional love.
Ms Christina Hau, Chief Executive Officer of Champion REIT, said, "We are honoured to be able to work with two non-profit organisations at the same time. While committed to giving back to society and promoting sustainability, we have been paying particular attention to issues such as food waste, encouraging the public to adopt pets and promoting pet inclusivity in recent years. Through this meaningful event, we wish to capitalise on the Trust's business and resources to raise public awareness of cherishing food and to convey the 'adopt instead of shop' message so as to make a concerted effort to contribute to the society."
About Champion REIT (Stock Code: 2778)
Champion Real Estate Investment Trust is a trust formed to own and invest in income producing office and retail properties. The Trust focuses on Grade A commercial properties in prime locations. It currently offers investors direct exposure to nearly 3 million sq. ft. of prime office and retail floor area. These include two Hong Kong landmark properties, Three Garden Road and Langham Place, as well as joint venture stake in 66 Shoe Lane in Central London. Since 2015, the Trust has been included in the Constituent of Hang Seng Corporate Sustainability Benchmark Index of Hang Seng Indexes.
Website: https://www.championreit.com/
About LP CLUB
LP CLUB is a membership rewards program launched by Langham Place, offers customers a diverse range of exciting shopping, dining, and lifestyle perks, as well as unique cultural experiences and themed events. Members can enjoy unexpected surprises beyond just shopping.
To become an LP CLUB member, customers simply need to download the Langham Place app and complete a simple registration process. Members can stay up-to-date with the latest shopping promotions and marketing events at Langham Place, and can earn points by making purchases that can be exchanged for exclusive member privileges.
About "Food Angel"
"Food Angel" is a food rescue and food assistance programme launched in 2011, striving to rescue surplus food that is still safe for consumption in Hong Kong. Following strict safety inspection procedures, the food is subsequently cooked in our central kitchens into nutritious meals or prepared as food packs, and then distributed by the logistic team to those in need in society free of charge.
About "HK Saving Cat and Dog Association"
HK Saving Cat and Dog Association ("HKSCDA") is a non-profit organisation established in Hong Kong on 1 April 2007. It has been committed to providing stray cats and dogs with food, medical care, sterilisation and adoption services. In addition to rescuing injured cats and dogs on the street, HKSCDA also takes care of small animals abandoned by the public and tries their best to find a dependable owner and a forever home for them.
Copyright 2023 ACN Newswire. All rights reserved. (via SEAPRWire)