HONG KONG, Jul 31, 2023 – (ACN Newswire via SEAPRWire.com) – On 27 July 2023, on the eve of the highly anticipated Chengdu FISU World University Games, the Minister of Health Indonesia Budi Gunadi Sadikin accompanied Indonesian President Joko Widodo on a visit to China. The Indonesia-China Healthcare and Biotech Investment Forum, co-hosted by the Embassy of the Republic of Indonesia in China and the Indonesian Chamber of Commerce and Industry Bilateral Committee for China (KIKT), and supported by Legend Capital and Indonesia Chamber of Commerce in China (INACHAM), was successfully held at the Shangri-La Hotel in Chengdu. A total of 120 people, including Indonesian government officials, scholars, business people and leading Chinese healthcare companies, attended the event to jointly discuss the direction and opportunities for the development of healthcare and biotech in China and Indonesia.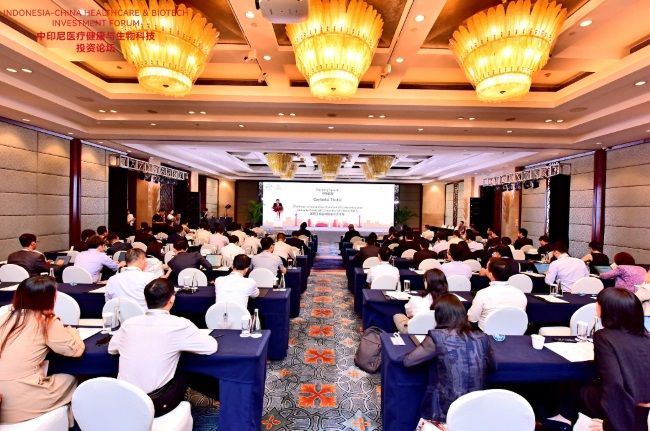 Jafar WANG, Co-Chief Investment Officer of Legend Capital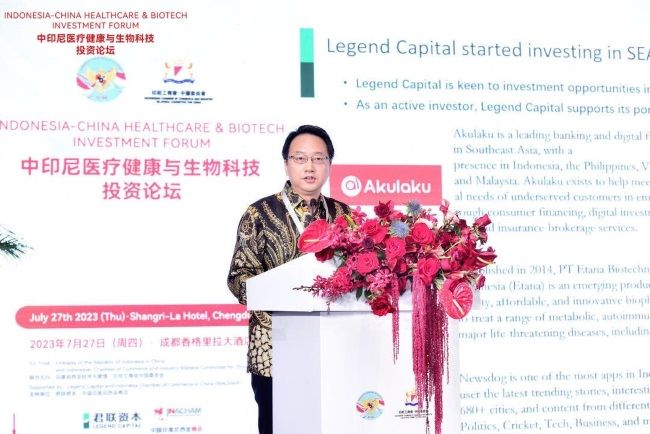 Frank HONG, Managing Director of Legend Capital
The forum was chaired by Mr. Jafar WANG, Co-Chief Investment Officer of Legend Capital, who mentioned Legend Capital's latest "Ecosystem plus" strategy in healthcare, and hoped to collaborate with the excellent healthcare enterprises in China and Indonesia to build an open, innovative, and international ecosystem through this forum. Mr. Garibaldi Thohir, Chairman of Indonesia Chamber of Commerce and Industry Bilateral Committee of China (KIKT), Mr. H.E. Djauhari Oratmangun, Indonesian Ambassador to the People's Republic of China, and Mr. Arsjad Rasjid, Chairman of Indonesia Chamber of Commerce and Industry (KADIN), each delivered opening speeches for the forum. They warmly welcomed Chinese healthcare companies investing and developing in Indonesia, combining innovative technologies, advanced concepts, and China's experience with Indonesia's national conditions, to promote the development of Indonesian healthcare and medical services.
The Minister of Health Indonesia, Budi Gunadi Sadikin, delivered a keynote speech on "Healthcare Policy and Planning in Indonesia". The speech systematically sorted out and discussed the overall health system in Indonesia from various perspectives, such as the current situation of Indonesian healthcare, the number and capabilities of medical personnel, the distribution of medical resources, and the coverage of universal health insurance. He indicated that the Indonesian healthcare system urgently needs to transform and develop, hoping to promote the transformation and upgrading of the healthcare system through the establishment of a nationwide disease prevention and control monitoring network, improving the level of primary healthcare services in Indonesia, training medical professionals and medical staffs, making rational use of funds from all parties, as well as cooperating deeply with Chinese companies through national projects. At last, He warmly welcomed Chinese companies to invest and develop in Indonesia and explore new opportunities and potentials for the development of the healthcare industry in both countries.
Mr. Frank HONG, Managing Director of Legend Capital, then delivered a speech on "Trends in Investment and Industrial Cooperation in Indonesia", sharing Legend Capital's investment strategies and choice of approaches in Southeast Asia, especially in Indonesia. He also elaborated on the current situation and upgrade demands of the Indonesian healthcare industry and suggested that excellent Chinese healthcare companies go abroad, increase investment in Indonesia and create more value for the two countries.
Subsequently, under the witness of the Minister of Health Indonesia and relevant government officials, the Ministry of Health Indonesia and Tsinghua University signed a strategic cooperation agreement. At the same time, a signing ceremony was also held between Chinese and Indonesian companies, whereby Chinese companies, including Sansure Biotech, Walvax Biotech, CanSino Bio, BGI, Sinovac Biotech, Zhifei Biological, and Wondfo Biotech, together with Indonesian companies such as UBC Medical, ETANA, Kalbe Farma, BioFarma, and Kimia Farma, reached partnership agreements, jointly supporting the coordinated development of the healthcare fields in China and Indonesia.
Mr. LI Ning, Vice President of BGI Group, gave a speech on "Trends in Life Science Technology", stating that BGI Group hopes to lead the innovative development of genomics with the integrated development model of "industry, university, and R&D", promote the transformation of gene technology achievements, and realize the benefits of gene technology to humankind.
During the panel discussion, Mr. Bonanza Perwira, Director of Centre for Global Health and Technology Policy of the Indonesian Ministry of Health, chaired a discussion on the "Prospects for Industrial Cooperation between China and Indonesia", which the Minister of Health Indonesia Mr. Budi Gunadi Sadikin, Director General of Pharmaceuticals and Medical Devices of the Indonesian Ministry of Health Ms. Lucia Rizka Andalucia, Chairman of Indonesia Chamber of Commerce and Industry Mr. Arsjad Rasjid, Kimia Farma's President Director Mr. David Utama, and Kalbe Farma's President Mr. Vidjongtius participated in and responded to questions raised by the audience regarding Indonesian healthcare policies, Indonesian health insurance payment methods, foreign company access and commercialization, and partner selection, and expressed a warm welcome to more open cooperation with Chinese companies.
Subsequently, Mr. QI Fei, Executive Director of Legend Capital, presided over the panel discussion of "Attempts for Chinese Company Collaborating in Indonesia", which Mr. DAI Lizhong, Chairman and Founder of Sansure Biotech, Mr. WU Xiaobin, President and Chief Operations Officer of BeiGene, Mr. DONG Shaozhong, Vice President of Walvax Biotech, Ms. WANG Jing, Chief Commercial Officer and Executive Director of CanSino Bio, Mr. XIA Jusong, President of International Business at United Imaging Healthcare, and Mr. CHEN Kai, Executive Director of AstraZeneca China participated in and shared and discussed topics such as the trend of China-Indonesia cooperation, development opportunities in Indonesia, practical experience of entering the Indonesian market, and cooperation models between the two countries. It is hoped that Chinese healthcare enterprises can carry out broader and deeper cooperation with more countries to benefit more people around the world.
2023 is the 10th anniversary of the establishment of the China-Indonesia Comprehensive Strategic Partnership and is also a year of opportunities for both countries. With the joint efforts of both sides, it is believed that the collaborative development of China-Indonesia in healthcare fields will undoubtedly contribute to the building of a community with a shared future for human health.
About Legend Capital
Founded in 2001, Legend Capital is a leading VC&PE investor focusing on the early-stage and growth-stage opportunities in China, with offices across Beijing, Shanghai, Shenzhen, Hong Kong, and Seoul, Korea.
It currently manages USD and RMB funds of over US$10 billion in commitments, and has invested in around 600 companies, covering technology, healthcare, consumer, enterprise service and intelligent manufacturing sectors. Rooted in China, Legend Capital participated in the rise of many world-leading companies by solid investment coverage and systematic post-investment value-add. Over the years, Legend Capital has also become a widely recognized name in bridging key resources in China and overseas through cross-border activities, and a valuable partner to Chinese and overseas investors.
Legend Capital values long-term sustainable investment and incorporates ESG into its long-term development strategy. As a UNPRI signatory since November 2019, Legend Capital is among the first group of top VC/PE firms in China to join the initiative.
For more information, please visit www.legendcapital.com.cn/index_en.aspx and follow us on LinkedIn @Legend Capital ( https://www.linkedin.com/company/legend-capital ).
Copyright 2023 ACN Newswire. All rights reserved. (via SEAPRWire)